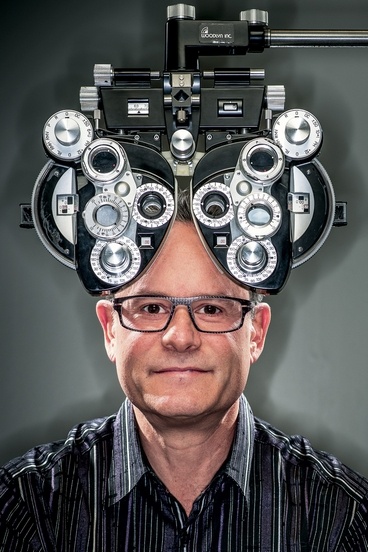 At Visual Effects Optical, the customer isn't always right
(Crains Business, Chicago) By: Lisa Bertagnoli, October 1, 2012
Chet Steinmetz knows what customers are looking for in eyeglass frames before they do. Correction: Dr. Steinmetz, an optometrist and owner of Visual Effects eyewear boutique in the Clybourn Corridor, knows what he would like to see on customers' faces, minutes after they walk in the door.
Dr. Steinmetz, 56, embodies a lesser-known principle of supreme customer service: You can't be all things to all people. "I have strong opinions," he concedes, and those opinions have earned him loyal fans—and customers who walk away frustrated, vowing never to return.
For him, the most enjoyable part of his practice is stepping onto the sales floor—1,150 square feet of 1980s-style glitter and silver, its glass shelves lined with stylish, expensive eyewear—and helping customers choose new glasses. He schedules appointments every hour, rather than every half-hour, to give himself and customers ample time to sort through options.
Dr. Steinmetz describes his practice as "an art and a science—the science is the eye exam, what I do in the white coat, and the art is being able to look at someone's face and decide what would look good on that face." Although he employs two opticians, Dr. Steinmetz helps customers decide which frames to buy. "What I do out here is as enjoyable as the eye exam," he says.
An avid amateur photographer whose father was a textile designer in New York, Dr. Steinmetz approaches frames as apparel retailers do fashion. He attends Visual Expo, an eyewear show, in New York each spring to stay on the short list for manufacturers to get the trendiest new frames. Visual Effects is one of the few eyewear shops in the country to carry Blac, a line of carbon-fiber frames from Danish maker Bellinger, and was the first to stock lightweight stainless-steel frames from Ic Berlin in 2002.
Visual Effects' frames are not cheap. Customers can easily spend $500 or even $1,000 for frames and lenses. As such, the pressure is on for his counsel to be not only wise but accurate, as prescription glasses, unlike running shoes, can't be returned if the wearer doesn't like them. Cara Turner, who lives in Logan Square, visited Visual Effects in 2010 at her boss's suggestion and after hearing that Michael Jordan's children are customers. (Dr. Steinmetz says privacy regulations prevent him from confirming whether they are customers.) Dr. Steinmetz's advice "is like having your girlfriend with you," says Ms. Turner, 24, a family law paralegal at Wessel & Doheny in Chicago. An opinionated girlfriend, to be sure: After telling him she wanted silvery metal frames, he chose a few "from the crazy end of the spectrum—these huge, thick, black ones, some blues and some neon," Ms. Turner recalls. The two hit "a happy medium"—metal frames in a coppery tone—that cost her about $300. "I will try to push a little bit, to challenge people," Dr. Steinmetz admits. "I like to step over the boundary. When I know where that is, I know how far I can go."
Dr. Steinmetz is projecting "style authority," a customer-service device that is "an excellent model for bricks-and-mortar retailing," says Mara Devitt, partner at McMillan Doolittle LLP, a Chicago-based retail consulting firm. "He's like the prestige hair salon. He says, 'This is the look for you, this is my business,' " Ms. Devitt says. "He has the authority to give you confidence to make that big purchase."
https://www.visualeffectsoptical.com/wp-content/uploads/2013/02/Crains_photo_Chet.jpg
552
368
admin
/wp-content/uploads/2015/04/visual_effects_logo.png
admin
2013-02-01 23:08:19
2013-03-11 20:49:09
At Visual Effects Optical, the customer isn't always right